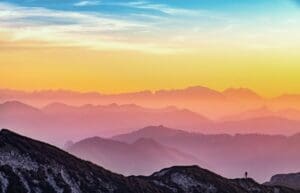 The Top 10 Ways to Find the Best Local Hikes
For any of us who love the idea of hiking and adventure, it all begins with our local hikes. The best local hikes we find near our homes provide us with so much joy and satisfaction, helping grow our passion for hiking. Local hikes are also a great way to prepare us for longer and more challenging international hikes. Many people do not realize that often there are incredible hiking, trekking, and walking opportunities in nature right near our backyard. These hikes are close by, convenient, and can be a great place to train, meet new friends, and connect with nature.
Before I get started on the steps to finding the perfect hike for you, ask yourself a few questions:
How familiar and comfortable are you with hiking?

Think about your pace, your fitness levels, and your comfort with going off the beaten track. If you aren't at a great fitness level, keep this in mind. Particularly if there is an amount of climbing or elevation to contend with in your local area – and even if a trail is recommended as the best local hike!

How much time do you have?

The length and complexity of your local hike might be worth considering here, before you select a local hike that is too difficult or requires too much time. If you're after a short, simple local hike as a beginner, make sure to take this into consideration during your searches.

What's the weather and season like?

Some trails might not be the best in your local area at certain times of year – in fact, they might even be dangerous. Keep this in mind as well, so that you are choosing the best local hike that suits your season and weather conditions.

Do you need special equipment or planning?

If your trail is likely to leave you ending up somewhere different than where you began, it's worth planning ahead – how will you return home? Do you have all the gear you need, if the trek extends into night time, or has other requirements? For simplicity, as a beginner, you might not want to take on a local hike that requires complicated equipment or planning, even if it is nearby. At the least, remember to bring plenty of water, snacks and a first aid kit, as well as a physical map in case you lose phone reception for any reason.

Who else knows that you're planning on going on a hike?

Make sure someone is aware of where and when you are going to take that local hike. It's always important for safety's sake!
These are just a few things to keep in mind as you research. Now that we've got that covered, let's move on to the fun part! When I wonder, "Which is the best hiking trail near me?", I look to the following to help me get started on a new hiking adventure:
1. Use with the right search terms to find your best local hikes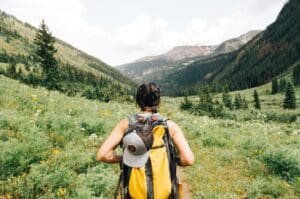 Wherever I am, if I am looking to go on a local hike, the first thing I do is turn to Google. But what should you search to find the best local hikes that can transform your view of adventure?
Start by entering your location and the phrases "Nature Trail" or "Hiking Trail" (and/or "Nature Preserve" or "Nature Sanctuary").
For Example: New Jersey + Hiking Trail
Once you perform your search for the best local hikes, a plethora of information should show up revealing the trails near you. At the top of the search results on Google, you should see a list of local hiking options with links to more information for you to click on.
I live in New Jersey in the United States. So when I searched for the best hikes near me, I typed in New Jersey and Hiking Trail into Google. Several great local hikes showed up in my search, including this website. This is just one example of a site that a hiking enthusiast has created that is dedicated to providing hiking information in my area.
2. Look up hiking books and magazines for hiking enthusiasts
While you might prefer the digital search options, there are thousands of books out there written on the subject of hiking specific locations across the globe. What better way to find the perfect hike near you than to go to a local expert! You can try Amazon or Barnes & Noble for starters, or a bookseller in your area. A good local bookstore might be the best place to find local information, including the best local hikes for your needs. You can then also perform a search for hiking books in your wider geographic region.
For example, I was very interested in learning about the Colorado 14ers. Through a search on Amazon, I was able to find a book titled: "Colorado Fourteeners" by Gerry Roach. The book contains a lot of great information and tips to hike the mountains in Colorado which are above 14,000 feet in elevation.
Hiking and adventure magazines can also be a great source of information on local hikes. I particularly recommend the following for useful hints on where to find the best trails near you:
Outside Magazine

– Check

this article

which lists the best local hikes by state as rated by Outside

Backpacker Magazine

– Check

this great guide

which also lists the best local hikes by state in the United States
3. Pay a visit to your local tourism board or visitor center
In many regions across the globe, there are tourism boards and visitor centers that promote local outdoor activities, including local hikes. These hubs will have pamphlets, brochures, information and recommendations on all the best local hikes as well as other outdoor activities in the region. They'll be able to answer any questions you might have before you get trekking. Here is an example of the Alexandria, Virginia Tourism Board website.
4. Get in touch with local Adventure Companies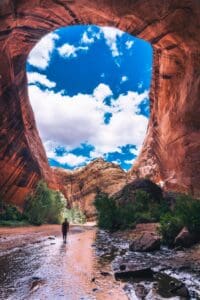 Another option to find the best local hikes is to look for adventure travel companies that run trips in the areas that you want to hike in. One way that you can find these companies is through a Google search. Another option is to peruse activity review sites such as Yelp or TripAdvisor. Lastly, you can also check with tourism boards and visitor centers if they know of any good local companies. You might want to join them on one of their best local hikes on offer, but you don't necessarily have to! You might just use the information about the hikes as a starting point for further investigation, or you might find that browsing their website gives you ideas for trails to hike. Either way, it can be an excellent source for information when you're looking for hikes near you.
As an example, if you are ever in the New York Hudson Valley Area, check out this link to a trip that we offer. This beautiful local hike takes place in an area called Bear Mountain State Park, which is rich in history and nature. Many national parks and hiking trail areas also have dedicated informational websites that provide information on the locations and conditions for the best local hikes. Here is an example of Bear Mountain State Park's website.
5. Read about the best hikes in recommended adventure blogs
There has been an explosion in the number of travel blogs over the past ten years. Many travel bloggers write about their outdoor adventure activities, such as hiking or trekking. You can try to search for blogs related to your topic and location of interest on Google. Another option is to check blogging lists for nearby hikes, such as this one on the best hiking blogs you should be reading. You can also search on blogging sites (such as Medium) that have a wealth of great content, like this post on finding the perfect hiking trail.
6. Visit adventure supply and booking stores
You can find adventure stores all across the globe. Many of these stores offer both paid hikes and free community hikes, as well as educational information on the best local hikes. In the United States, an excellent example of an adventure store is LL Bean. This company offers a range of activities for you to select from. The LL Bean site has a section that outlines their outdoor activity options and might offer some ideas and information when you're looking for a local hike.
7. Get in touch with hiking clubs and associations
Hiking clubs and hiking associations are extremely popular throughout the world, and are an effective way to find out about the best local hikes as well as make new friends with shared passions. A few great examples of hiking clubs in the Northeastern United States are listed below:
8. Attend some outdoor adventure events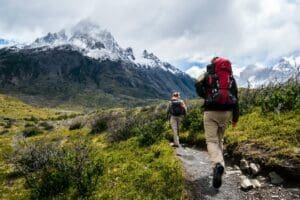 There are many trail running events and adventure races across the globe. Many of them take place on popular nature routes or hiking trails. Whether you want to participate in one or just learn about new trails used for their races, learning more about the events can be a great resource. A good example is the Spartan Race, which is one of the most popular adventure race series in the world. There are different race levels and durations and many of the races take place on popular mountain locations, which can provide clues for you on where to find the best local hike. Visit the Spartan Race website to find out more.
9. Download outdoor activity apps
There are many apps out there for your phone to help find you find hiking trails and to track your hikes. One of the popular ones that I love to use is AllTrails. AllTrails has a number of great features and allows you to search for hikes by location. Other great apps include Strava, which will help track your trekking, and PeakFinder, which will help you identify information as you walk.
10. Talk to friends and family!
Local knowledge is always the best knowledge when it comes to finding a great local hike! Talk to nearby neighbours, friends, and family who might have lived in your area for some time and had a chance to explore the area. Don't underestimate the knowledge of friends or family – a personal touch is always appreciated when it comes to getting good recommendations. Those you already know may have hiked a trail in the past and know of great nature spots near your home.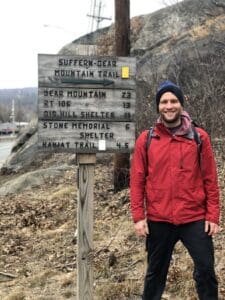 Some other international resources:
Looking for the best local hike is specific to your area and the information on offer. But there are plenty of ways to get started, as mentioned above, to feed that passion for hiking and adventure! Start with these 10 tips to finding your best local hikes and rediscover nature in your part of the world. And, of course, don't forget that we offer a whole range of adventures to keep that explorer spirit alive! Once you've mastered the area near you and your best local hike, it's time to discover more of the world around you.
I look forward to seeing you on the trail!
Cheers,
Jeff
Jeff Bonaldi
Founder & CEO
The Explorer's Passage
About Jeff Bonaldi
Jeff Bonaldi is the Founder and CEO of The Explorer's Passage, an adventure travel company. His mission is to provide travelers with the opportunity to transform their lives and the planet through the power of adventure.
For the latest, follow Jeff on Instagram and learn more about him HERE.