Expert Guide to Solo Travel & Top Destinations in 2023
Solo travel can be incredibly rewarding. This is why more people than ever are taking trips by themselves. Traveling alone affords you the opportunity to explore on your own terms. You'll see the world at your own pace while doing all the things you enjoy. You'll meet and mingle with interesting new people and grow personally. Whether it's a short day trip to a historic town a few hours away or a full-on expedition to the Himalayas, The Explorer's Passage (an industry award-winning premier adventure travel company) has expert advice on conquering your next solo adventure.
Although it can be a daunting prospect for some, it doesn't have to be…
There might be worries about safety, loneliness, travel planning – the list goes on. However, the more you prepare for your experience traveling alone, the more confident and better off you'll be to tackle any new destination. For others, solo travel offers a taste of real freedom through the ability to go where you want, when you want, and explore how you want.
This guide will take you through the ins and outs and pros and cons of solo travel. We'll touch on why we're such huge fans, and how we've crafted all of our tours to suit people who travel alone to some of the best destinations on earth. We'll also take a look at key stats about solo travel, smart tips on how to have the best experience, and trips that are perfect for those looking to explore on their very own.
Inside This Guide
So, Just How Popular is Solo Travel?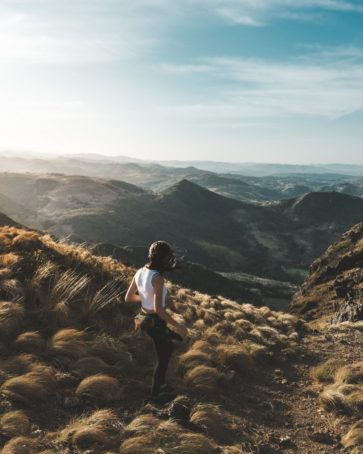 Solo travel is super popular. At The Explorer's Passage, we estimate that about 50% of the people who come on our trips join without a travel partner. That's a significant number of travelers going alone on pretty epic adventures, from hikes around the jagged peaks of the Patagonian Torres del Paine to multi-day outings in the Icelandic backcountry, to name just a few destinations.
But don't just take our word for it. The statistics back it up. That's right, solo travel is thought to be one of the biggest growth sectors in the industry for the last couple of years running. Research highlighted by Condor Ferries estimated that about 25% of all travelers in 2020 were going solo. Plus, there's been a huge boom in female solo travel. In fact, 72% of American women said they've taken at least one trip on their own in their lives, but more on that hot topic later.
It seems the solo travel trend will continue growing. A report by the global firm Resonance Consultancy revealed that a quarter of all American millennials plan to travel alone. No wonder the #SoloTravel tag on Instagram appears in over a whopping 7.6 million posts at the time of writing. What's more, social media is changing the travel landscape. It's connecting would-be lone travelers to others who are traveling solo all around the globe.

Solo Travel Demographics
We know solo travel is most certainly on the up, but who is actually traveling alone? What age groups and nationalities are doing it the most?
Well, it's a pretty varied picture. There are some indications that younger generations are slightly more willing to visit travel destinations without company. A Princeton Survey Research Associates study found that 58% of millennials are willing to travel by themselves. However, there's no shortage of interested travelers in other age groups with 47% of people born before 1980 also saying they'd like to take a solo trip. That's bolstered by the fact that the estimated average age of the solo traveler today is around 47.
Geographically speaking, solo travelers from Asia are likely to be younger, reflecting a recent opening of large-population countries like China to the mainstream travel market. Whereas in the US, the UK, and the rest of Europe, there's also a trend towards Baby Boomer solo travel. The global media company Forbes reports that the generation spends an estimated $157 billion on trips annually, and you can bet that Baby Boomer solo travel accounts for a growing portion of that.

The Rise of Solo Female Travel
Wherever you look, there's evidence of a huge boom in female solo travel happening right now. From 2018 to 2019 alone, people searched for "solo women travel" on Google 230% more than previously. There's been even more engagement with posts about solo female travel on the visual social media channel Pinterest to the tune of a 350% increase! Women are certainly dominating this particular sector with them making up 84% of solo travelers, according to Condor Ferries.
We're also seeing many more solo females joining our adventure tours. They're going to destinations all over the world, from the snow-dusted plains of the Arctic to the palm-fringed beaches of Central America. To meet growing demand and help our travelers feel comfortable, we've tailored our tour packages to ensure we have mixed gender staff on all trips, the possibility for travelers to choose private rooms or same-gender accommodations, and extensive pre-trip education calls. If this sounds like the type of adventure experience you'd like to have for traveling solo, get your trip planning started!

Benefits of Solo Travel
Wow, where to begin? There are more upsides to solo travel than you can shake a map at. Seriously, bloggers, travel experts, and even mental health practitioners have waxed lyrical about the benefits of taking trips without anyone else in tow. They talk about everything from gains in self-esteem to the ability to eat wherever you like.
We think some of the biggest pros are:
The chance to meet new and interesting people

– Solo travel offers a unique opportunity to create lasting friendships with people you'd almost certainly otherwise never meet. Being alone as a traveler makes you more approachable and eager to socialize. This means other travelers or locals are more likely to chat with you.
Confidence building

– Overcoming the worries that surround traveling alone in an unfamiliar destination often works wonders for self-confidence levels, as you realize you are good enough to plan that hike or you are capable of booking airfare without a hitch. Traveling solo is a learning experience and it can be empowering as you find new ways to adapt along the way and be your own boss.
Added freedom – According to The Wandering RV (a digital publication focused on RV travel), 45% of solo travelers recently said that freedom is the biggest benefit of taking trips alone. Go ahead and call all the shots, and feel the liberation of making all your own decisions. You have the ability to go wherever you want, whenever you want. This makes planning way easier. Do you want to go to your dream destination during the popular peak season, calm low season, or shoulder season in between the peak and low times? You decide! Whatever fits your preferences, budget, and schedule works. Plus, you'll eat what you want, do and see what you want, and stay in whatever accommodations you like, all without needing to run it past a single soul.
However, if the planning process is giving you anxiety or you just can't be bothered, we're here to help. Just reach out to one of our travel experts for some of the best tips and trusted service in the industry.

Downsides of Solo Travel
Let's be honest. We've all seen those awe-inspiring shots of solo adventurers posing by crystal Icelandic glaciers, in misty Costa Rican waterfalls, or under the sharp peaks of the mighty Himalayas. That sort of content paints a rosy picture of solo travel from start to finish, but many travelers considering going it alone have real concerns before embarking on their journey to an unfamiliar destination. It doesn't have to be a daunting experience though! First, we'll lay out some of these concerns and then we'll cover some solutions.
Commonly perceived cons to ditching a travel partner or an organized tour for a trip on your own are:
It can be more expensive – It can be a little more expensive to book single-occupancy hotel rooms. Plus, there may be deals for groups of two or more travelers at major attractions to help cut down on individual costs.
It could be a little less safe – Solo travelers who are not on an organized tour won't have anyone by their side to keep an eye out for them. Moreover, being alone may heighten your risk of falling victim to travel scams, petty theft, or other crimes.
The loneliness factor – A major worry of solo travelers is they may get lonely when there's no one there to turn to when they don't feel like hitting the hotel bar and socializing. What's surprising to some is that traveling solo doesn't mean you have to be alone – it can be an incredibly social experience where you'll never feel lonely at all.
Our advice? The good news is that most of the stresses and downsides of solo travel can be taken care of by joining an organized group tour that welcomes others traveling alone. That way, you can make friends, skip single supplement fees and save money by sharing the cost of rooms if you wish, enjoy the safety net that comes with guided itineraries, and have expert planning support. Whether it's your first trip alone or your 50th, choosing an experienced tour operator like The Explorer's Passage will ensure you receive unparalleled support during all phases of your epic solo trip.

Smart Tips for Traveling Alone
We can go on and on about practical travel advice, but below is a roundup of a few top tips for solo travelers:
Be safe – Is it safe to travel alone? Although traveling solo is very common, if you are worried, there are a number of precautions you can take. Start by doing research and choosing the right destination for you. There are some places more accommodating of solo travelers. Check out our suggestions below for some of the best places to visit alone. It's always a good idea to check for any travel advisories as well. When possible, stay in contact with friends or family during your travels and make sure someone knows of your plans. If you're going international, make sure you meet all entry requirements. Not sure what they are? Book a trip with us

and we'll do all the planning for you.
While you're out living your best life and satisfying your wanderlust, remember to be mindful of your surroundings and belongings. Don't travel with valuables, but if you must, be sure to secure them well (e.g. money and passport) to avoid becoming a victim of petty crime. Whether travels are domestic or international, a good piece of advice is to respect the local culture and try to blend in. Joining an organized tour is a great way for solo travelers to explore new destinations in a safer group setting under the expert guidance of local guides.
Think local –

One of the best ways to immerse yourself in your travels is to seek out an authentic experience. Try to

learn key phrases in the local language using online resources

. Be open to talking with locals and fellow travelers. By striking up a conversation, they may be able to offer advice on hidden gems to visit, areas to avoid, popular foods to try, activities or events not to be missed, and other local favorites. Simply strive to learn about and from the locals, and prepare yourself for a culturally enriching experience!
Stay flexible –

With all things in life, adaptability is essential and this very much applies to your solo travels. Things can change constantly, but remember you're exploring a new place and there are boundless options awaiting you if your original plan changes. It's nice to have a plan, but some of the best experiences solo travelers have are impromptu ones. Our tip to you is to keep things exciting by welcoming interesting opportunities when they arise.
To help you prepare for a great experience, we've created an extensive collection of more of the best adventure tips and travel insights – check out the posts here! You'll find both general advice and destination-specific tips.

Exciting Solo Adventure Travel
Solo travel can test the boundaries of your comfort zone in a much bigger way than traveling with family or friends. So, it's hardly a surprise that solo travel dovetails perfectly with adventure travel. Both of these are about gaining new and uplifting experiences, learning about yourself as well as the planet, and forging relationships with new people and places. We've even written about 5 Powerful Life Lessons You Can Learn From Adventure.
There's really no better way to build deep bonds with other engaging travelers than by sharing a trail or a tent with them somewhere at the edge of the world. Disclaimer: We're a seasoned adventure travel tour company, so we would say that, right? Maybe so, but we've definitely witnessed countless meaningful bonds form between folks who were strangers only days before a destination tour. Such connections are spurred on by sharing life-changing moments together like arriving at Everest Base Camp or conquering Machu Picchu.

Incredible Destinations for Solo Travelers in 2023
We've got some of the best solo travel destinations that are perfect for go-it-alone travelers, but we're also proud of our long-standing tradition of welcoming and catering to solo travelers. We have really focused on making all of our destinations and adventure tours more accessible by adding in same-gender room options, offering comprehensive pre-trip support and guidance, and creating mixed groups of travelers.
The aim? To ensure solo travelers can enjoy once-in-a-lifetime experiences like trekking under the sleeping giant peaks of the Khumbu Valley or conquering the Salkantay Pass in the Andes, confidently and comfortably.
Some trips that we can wholeheartedly recommend as some of the best places to visit alone are:
Mount Kilimanjaro – This extraordinary trek to the highest peak in Africa takes six days and whisks you onto the snowy Shira Plateau above the lion-stalked plains of northern Tanzania. Need more reasons why this is the perfect solo experience? Read more Mount Kilimanjaro tour details here

.
Everest Base Camp Trek – This bucket-list adventure will join you with other mountain lovers to retrace the steps of Edmund Hillary and let you lay eyes on the tallest mountain on the planet. Interested in this thrilling historic climb in Nepal? Read more about our Everest Base Camp Trek tour here

.
Laugavegur Trek – Join other solo adventurers as you cross the highlands of Iceland to the glacial valley of Thorsmork. This one's perfect if you can only travel during the summer. Read more about our Laugavegur Trek tour here

.
W Trek – This is an epic point-to-point trek that skirts the Torres del Paine, some of the most awesome peaks in Chilean Patagonia. You don't want to miss these views! Read more about our W Trek tour here

.
Inca Trail to Machu Picchu – You're sure to make lifelong friends after exploring the mystical lost city of the Incas with other trekkers at the end of this world-famous path through the Peruvian Andes. A UNESCO World Heritage Site awaits you. Read more Inca Trail tour details here

.
Still need more inspiration for the perfect solo trip?

Another important point to note is that some destinations require trekkers to obtain permits in advance which may be limited. Pro travel tip: it's best to plan early. If you don't know where to start, our team can help you secure permits. With our years' of experience, we know when permits open for booking.

You're Ready to Go Solo! Now What?
So are you ready to embark on the adventure experience of your life? Whether you love planning or prefer to leave the logistics to us, you're off to a good start with our expert tips.
Do you have more questions? This post has covered a lot, but we have so much more advice to share about solo travel. My experienced team would love to hear from you so contact The Explorer's Passage and let's chat. Better yet, we would love for you to join us on any of our many ultimate Solo Travel adventures!
We pride ourselves on delivering extraordinary tours based on travelers' needs and are humbled by our guests' testimonials. In fact, our dedication has earned us a 5-star rating on Tripadvisor, and awards by Travel+Leisure Magazine and Newsweek. Check us out and discover why so many travelers worldwide choose us.
I hope to go exploring with you soon!
Cheers,
Jeff
Jeff Bonaldi
Founder & CEO
The Explorer's Passage
About Jeff Bonaldi
Jeff Bonaldi is the Founder and CEO of The Explorer's Passage, an adventure travel company. His mission is to provide travelers with the opportunity to transform their lives and the planet through the power of adventure.
For the latest, follow Jeff on Instagram and learn more about him HERE.