Top Things to Know Before Visiting Monteverde, Costa Rica
Monteverde is synonymous with its rare and biologically rich cloud forest. Tucked into the peaks and troughs of the Cordillera de Tilarán mountain, this small and charming Costa Rican town is the steppingstone to what's been hailed as the finest dash of moist montane woodland in all of the Americas – not our words, Nat Geo's. Being the ecotourism hotspot that it is, it's no wonder Monteverde translates to "green mountain" from Spanish.
People flock from all over the world to walk the famous hanging canopy bridges, zipline through ancient ficus trees, and step the moss-caked trails of the Monteverde Cloud Forest Biological Reserve. Here, resplendent quetzals and white-faced capuchin monkeys flit this way and that through the vine-strewn boughs. Birdwatching, night hikes, eco lodges, ziplines, and oodles more add up to help make the Monteverde one of the top bucket-list spots of Costa Rica.
Intrigued by Costa Rica? Check out these many tours around Costa Rica.
In this guide, we'll delve deep into the mist-swirled valleys of Monteverde and its cloud forest to offer a complete guide to what you can expect as a traveler. We'll cover how to get there, where to stay, and what things you simply must do and have on the itinerary for an unforgettable trip.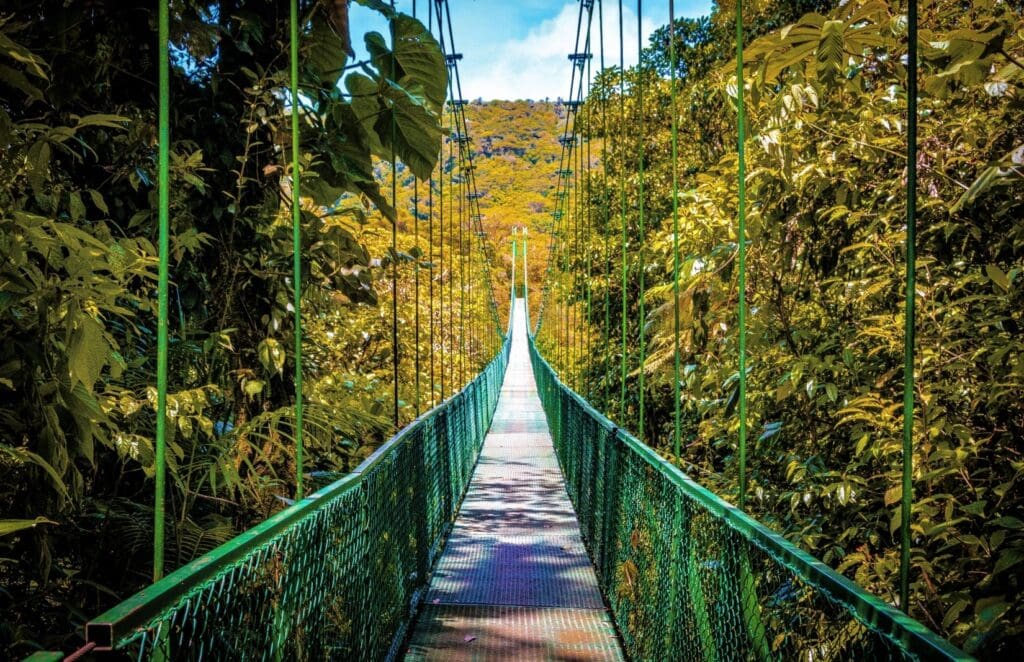 My Experience visiting Monteverde
"Just wait for the cloud forests," everyone kept telling me as I worked my way through Costa Rica towards Monteverde. "They're unlike anywhere else on Earth," they said. They were right. Creeping through narrow clefts in the central sierras some 5,000 feet (1,500 meters) above sea level, the Monteverde Cloud Forest certainly wasn't like anywhere I'd ever been.
As I stepped onto the first marked routes in the Monteverde Cloud Forest Reserve, I recall the burst of green, all 10,000 shades of it – emerald mosses here, chartreuse ferns below, the pea-tinged leaves of ancient ficus trees there. Along the trails, I heard the calls of howler monkeys and imagined the undergrowth crackling under the stalking paws of ocelots. It was my sort of place.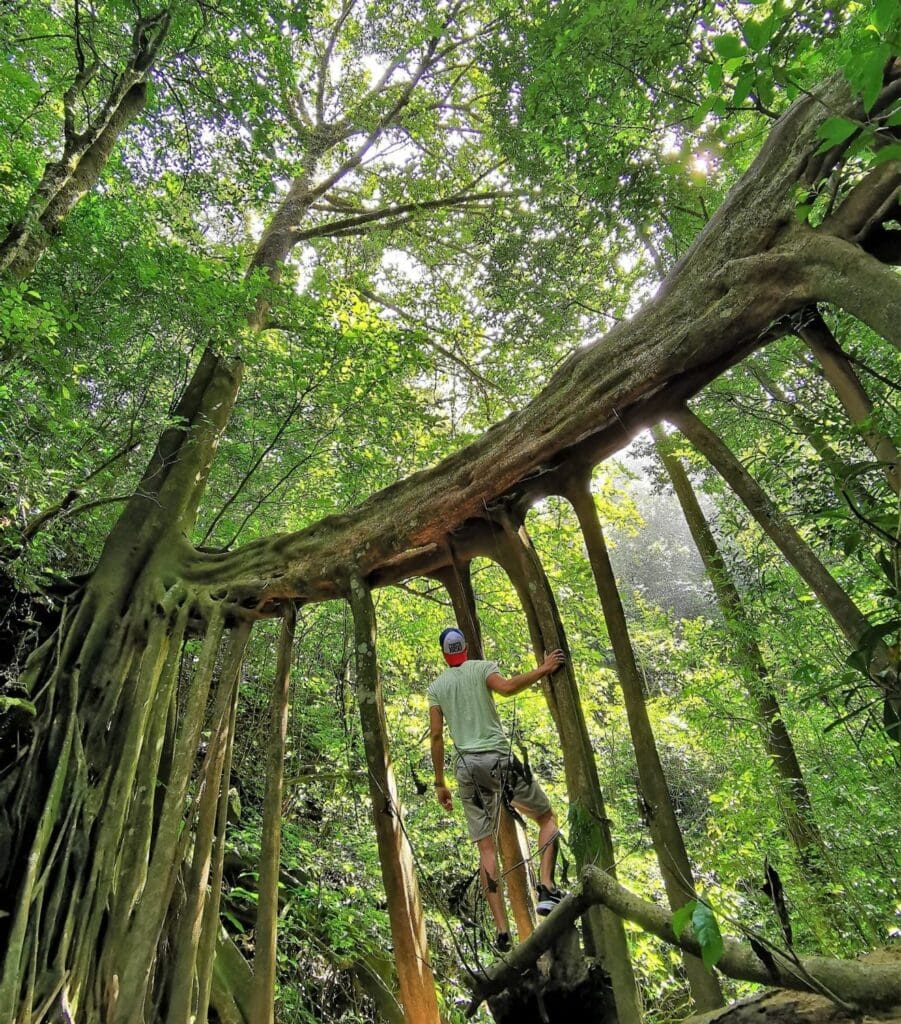 One of my favorite adventure destinations is Costa Rica, a place where I have explored extensively. In my time there, I especially loved everything from hiking around the Arenal volcano and the beaches of Tamarindo, to learning about the rich history of San José – Costa Rica's capital and largest city. With a strong sense of sustainability, amazing opportunities for adventure, and some of the most beautiful landscapes on the planet, Costa Rica and its Monteverde Cloud Forest are must-sees for any traveler.
Ever since I was young, I have dreamed of exploring this incredible planet. I have been very fortunate to have explored over 50 countries across this extraordinary world and to have made travel my career. To spread the joys of travel, I founded The Explorer's Passage, a premier adventure travel company and, in my opinion, the best tour operator in Costa Rica. Not only do we run incredible trips to Monteverde, but we also offer other Costa Rica adventures, like exploring the Arenal volcano, that are perfect for thrill seeking travelers!
Our team has over 30 years of experience running successful tours in Costa Rica. If at any point throughout this guide you find yourself with any questions, reach out to our team and we'll gladly help build your dream trip!
What's in this guide?
Where is Monteverde?
Monteverde is just about as far north in Puntarenas province as it's possible to go without hopping over into the neighboring province of Guanacaste. That puts Monteverde in the northwest of Costa Rica as a whole, relatively close to the famous Pacific beaches and surf towns that most travelers aim for, whether that's Tamarindo or Jaco.
Monteverde and its iconic cloud forest are in the thick of the Cordillera de Tilarán mountains, which extend north and west from the Central Valley and San José. If you're headed to the capital, you'll need to travel about 87 miles (140 kilometers) from Monteverde.


How to get there?
The vast majority of people who visit Monteverde will stay in or around the village of Santa Elena. That's a short ways down the road from the main epic Monteverde Cloud Forest reserve but it's easy to access from the National Road Route 606 highway that links this part of Costa Rica to the country's larger road network. This town also provides easy access to the lesser known Santa Elena Cloud Forest that you may also want to explore.
Traveling by bus is the most popular way to arrive and there are now regular links from the capital of San José, the adventure travel hub of Arenal to the northeast, and the Pacific Coast. Here's a quick look at your various travel options:
From San José – Take the Transmonteverde bus. They leave twice daily starting in the morning and take 4.5-5 hours in total.
From Arenal – Do the lake crossing water taxi followed by a bus. The trip takes two hours in all and offers gorgeous views of the central mountain chains that cut through Costa Rica
From Tamarindo – There are public buses that take about 3-4 hours from Tamarindo, though they will usually involve a change at Cañas along the way.
Getting around Monteverde
Once you're in Santa Elena, the town that acts as the main hotel hub for the Monteverde region, the best way to get around is also either by private car, taxi, or bus. Private transportation is often included in organized tour trips, but be sure to check with your tour operator. The taxis charge set rates* of $5 to $20 per way, depending on length of journey for the most popular trips.
The buses usually run pre-planned routes up and down the hill from Santa Elena downtown to the major nature reserves. You can pick up their route from the main roadway much like you would a ski bus in a winter resort. A trip from Santa Elena downtown to the Monteverde Cloud Forest costs just $1 one-way* and takes around 10 minutes. Public buses have standard ticket rates and are the cheapest way to get around during your Monteverde travel.
As mentioned, many organized trips and activities will come with transportation included – a more comfortable option. That goes for the night hikes and excursions to lesser-known cloud forest reserves in the area such as the Santa Elena Cloud Forest Reserve.
You can also drive yourself around Monteverde but be warned that only the main road linking the reserve to Santa Elena is properly paved. All the rest are mud tracks with bad potholes so it's worthwhile to have a guide with local expertise who is familiar with road conditions. Travel with The Explorer's Passage and we can take care of the transportation details for you.
*All prices are listed in US dollars and accurate at the time of writing but may change. It's best to research current prices before your trip or check with a trusted tour operator such as The Explorer's Passage.


Best time to visit Monteverde
The best time to visit Monteverde is during the dry season in Costa Rica, which runs around November and December to March and April. Hiking is most comfortable during this season with temperatures remaining relatively steady, hovering around the 85°F (29°C) mark in Monteverde.
It's really the dip in rainfall that makes it the top time of the year to visit. Less rain falling from the sky means more chance of finding the key hiking trails open for business and having better visibility for birdwatching.
Remember that this is a cloud forest. That means there's almost always some sort of precipitation falling, usually in the form of thick water vapor or mist. So it's not likely to be totally dry during the dry season, just simply drier than the rest of the year.
Top things to do in Monteverde
Monteverde is a quintessential Costa Rican destination. We say that because the main activities and attractions here are all about getting up close and personal with the eye-watering biodiversity and natural landscapes of this lush land in the heart of Central America.
Whether you're birdwatching in the Bosque Eterno de los Ninos (also known as the Children's Eternal Rainforest) or visiting the Monteverde Butterfly Gardens, prep for lots of scenic hiking, walks through the canopy on hanging bridges, heart-thumping ziplines, and tropical safaris galore. Here are a few of our top recommendations:
Monteverde Cloud Forest Biological Reserve – The Monteverde Cloud Forest Biological Reserve is the undisputed top thing to see in Monteverde. This lush paradise is one of the most biodiverse places on earth. Not only is it one of the last remaining tracts of true cloud forest in Costa Rica since first opening in 1972, but it also protects over 35,000 acres (14,200 hectares) of one of the most immaculate cloud forests in the world. Since cloud forests are ultra rare ecosystems that represent a mere 1% of the woodlands left on earth, you'll surely not want to miss this!
This is the perfect spot for a hike. Today, the Monteverde Reserve draws over 70,000 visitors each year, who come to walk some of the most famous trails in the country – there are 8 miles (13 kilometers) of marked hiking trails to get stuck into. Start with a stop off at the Visitor's Center to learn all about the booming birdwatching and mammals that reside within. Then head off to see if you can spot those quetzals and big wild cats (think pumas and jaguars) on your own.
As you climb higher and higher, the climate and habitats will change right in front of you – simply amazing! As you make you way along the Continental Divide, be sure to stop by the La Ventana observation deck. This overlook, which translates to "the window," will fittingly reward you with a look at the majestic mountains below as well as stunning views of both the Caribbean Sea and Pacific Ocean in front you. Here you'll be able to straddle the Continental Divide and be in two places at once, feeling both the dry, salty Pacific air and warm, humid Caribbean winds simultaneously.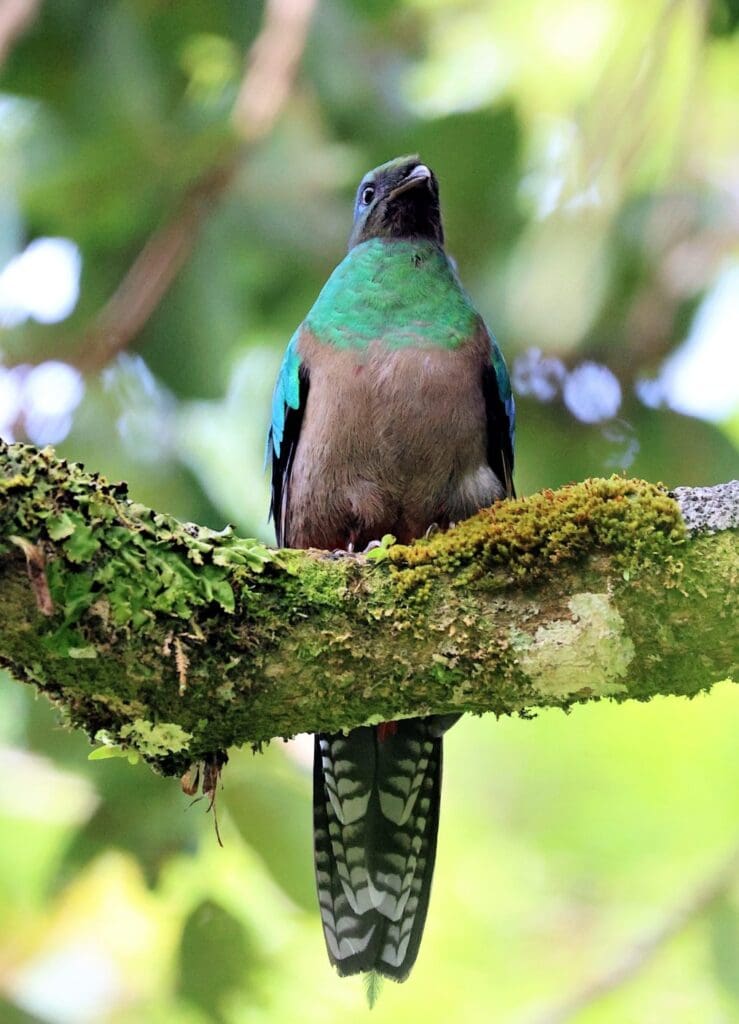 Sky Adventures Monteverde – No trip to Costa Rica could possibly be complete without crossing a suspended canopy bridge over the Monteverde Reserve. Cue Sky Adventures Monteverde, a popular aerial amusement park, which has some of the very best canopy bridges in the whole country. They crisscross a section of jungle on the northern fringes of the cloud forests, taking you well above the canopy where it's easier to spot the rare bellbirds and pay homage to the ancient strangler trees.
High-octane visits are also possible when you check out the whizzing zipline course that's also onsite. Ziplining through the canopies is frequently revered as a top thing to do in Monteverde, providing you with a birds-eye view of the fabulous greenery and wildlife.
Bosque Eterno de los Ninos (the Children's Eternal Rainforest) – The Bosque Eterno de los Ninos is unique among Costa Rica's nature reserves in that it was created on the initiative of international grassroots organizations that simply started buying up bits of land for the sole purpose of preservation.
It has grown and grown over the decades to now encompass nearly 60,000 acres (24,281 hectares) of land; an island of preserved primeval woodland, perfect for birdwatching, that hosts rare species like sloths and umbrellabirds.
The biological station at San Gerardo is accessible on the road north of Santa Elena. It's prime for wildlife viewing and even reveals panoramas of the Arenal Volcano in the distance.
Night hikes – A night walk through the mist-swirled cloud forests is an experience unlike any other and a top Costa Rica attraction. You'll tread the same trails as in the day, only as those nocturnal animals emerge from their dens and burrows, creating an entirely new hiking and sensory experience.
There are several places that offer after-dark safari packages. There's one at the Monteverde Cloud Forest Biological Reserve, which is perfect for birdwatching lovers. Lower-altitude reserves like Don Rodolfo and the Ficus Trails are better for seeing larger mammals and Costa Rica's infamously venomous snakes that more frequently appear during night walks.
Monteverde Butterfly Gardens – The Monteverde Butterfly Gardens sit at the entrance to the Valle Escondido Nature Reserve on the south side of Santa Elena town. They're an eco-attraction with a difference, focusing on the more miniature ecosystems of the Monteverde Cloud Forest.
Guests get to see over 30 different types of butterflies, from the huge pink-spotted cattleheart to the malachite butterfly. On the guided tours, you'll learn about the importance of Monteverde's insect food chains and about the efforts being made to conserve these less-seen parts of the environment.
Intrigued by Costa Rica? Check out our many tours around Costa Rica.

Where to stay in Monteverde?
When choosing where to stay in Monteverde, there is certainly no shortage of lodgings – the town is one of the ecotourism hotspots of all Central America afterall. It's developed to offer accommodation choices for all levels of budget, from cheap backpacker hostels to lux honeymoon hotels hidden in the cloud forests themselves.
As mentioned earlier, many actually stay in or near Santa Elena, which is down a winding, wiggling roadway about a 15 minutes' drive from the entrance to the legendary Monteverde Cloud Forest Biological Reserve. Here's a closer look at some of our favorite places to stay when visiting Monteverde:
Chira Glamping – True immersion in the Monteverde Cloud Forest is on offer in the glamping domes at Chira. They're perched on decks overlooking the canopy, and even have glass shower cubicles that let you watch for monkeys while you wash off after a hike!
Fondavela Hotel – There's a touch of the Swiss chalet about the Fondavela Hotel, which has spacious rooms that offer 180-degree views of the woods from their bay windows. The establishment also has its own heated pool.
Hidden Canopy Treehouses – You won't believe what they manage to get into the treehouses at the Hidden Canopy. Fully fitted bathrooms made of marble, wraparound deck spaces for birdwatching, big king beds – it's all there!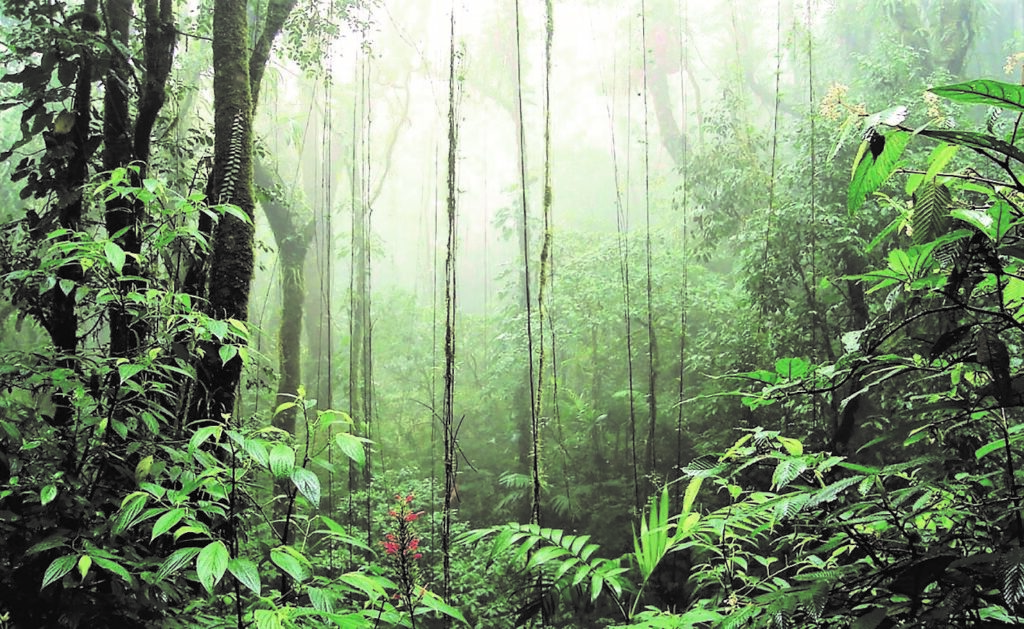 Where to eat?
As the popularity of the cloud forest has boomed in the last decade, so too has the range of places to eat in Monteverde. These days, you can chow down on everything from spicy Tex-Mex to avant-garde Costa Rican fine dining. Let's take a look at some of the best places to fuel up at after a hike:
The Open Kitchen – A stripped-down hipster café-come-lunch spot that's got corrugated-iron walls and industrial-chic metal beams running throughout, The Open Kitchen is a great drop-in for breakfast and brunch. The menu includes a range from healthy acai bowls to fish and chips. Plus, the internet here is some of the fastest around.
San Lucas Treetop Dining Experience – You'll dine with a difference at the San Lucas Treetop restaurant. As the name implies, it's set up above the verdant rainforests on a series of timber-built platforms. The theater continues through the food, which makes use of regional produce to create edgy dishes. There's even one that literally grows before your eyes!
The San Lucas Treetop is surely one of the most unique places to eat in Monteverde. However, there are only eight tables here so be sure to book early before you travel to Monteverde.
Tortillas Food & Drink – Monteverde – This homey joint on the hillside that creeps up to the main reserve entrance is a great place for dinner before or after hitting the trails. They serve classic Tico foods, including all manner of spicy rice and zingy shredded chicken.
Sample Monteverde itinerary
A Costa Rica trip to Monteverde sounds great, doesn't it? Whether you plan the whole thing yourself or decide to come with us (fingers crossed!), we hope this guide will serve you well.
Below is a sneak peek of what you can expect during your adventure with The Explorer's Passage. Although we've included our picks for some of the best places to visit, everything is fully customizable to your idea of the perfect trip. We'd love for you to contact us so we can show you what's possible.
Day 1: Arrive in Monteverde – Welcome to Costa Rica! You'll be greeted at the Juan Santamaria International Airport in San José upon arrival where you'll then enjoy an easy private transfer to your hotel in Monteverde.
Take the afternoon to grab a cup of the famous Costa Rican coffee and leisurely explore the exciting sights and sounds of this ecotourism hotspot you'll call home for the next few days.
Day 2: Cloud Forest hike, hummingbirds & 3-in-1 tour – Today you'll rise early for a morning pickup to go on a guided hike through the enchanting Monteverde Cloud Forest Biological Reserve. There, you'll gain a closer look at endless diverse flora and wildlife.
After the hike, hop over to the Hummingbird Gallery. It's a paradise for birdwatching lovers where you'll be amongst a wide variety of colorful hummingbirds and other bird species up close.
In the afternoon, indulge in an educational 3-in-1 tour on coffee, chocolate, and sugar cane. Dive into the history of these agricultural gems of Costa Rica. Immerse yourself in a hands-on session on how world-class coffee, chocolate, and sugar cane products are traditionally made from their raw forms. Enjoy the fruits of your labor by sampling the freshest brewed coffee, smooth chocolate, and refreshing sugar cane juice.
Day 3: Zipline, butterflies & night tour – After a tasty breakfast, start your day with an adrenaline-filled ziplining adventure through the dense forest canopy and a guided treetop walk along hanging bridges with stunning views of the lush Monteverde Cloud Forest.
Next, visit the Monteverde Butterfly Gardens to observe different species of butterflies and learn about their life cycles and habitat.
Monteverde comes alive at night. In the evening, experience the town's rich biodiversity in a new way through the Night Tour experience. Catch a glimpse of nocturnal wildlife and exotic plants. There's no shortage of sights to see with thousands of plant species and insects, as well as hundreds of species of mammals, birds, reptiles, and amphibians that only become active after dark.
That's just a glimpse of what awaits you. Tempted to experience the full Monteverde Cloud Forest adventure? Join us!
Got more questions on things to do in Monteverde or need help planning your trip to Costa Rica? Our knowledgeable Adventure Consultants would love to hear from you so contact us and let us show you what's possible.
If you liked this post, be sure to check out the 15 Best Places to Visit in Costa Rica and 14 Fast Facts About Costa Rica.
Why travel with The Explorer's Passage?
Experience Monteverde with the best tour operator in Costa Rica. With over 30 years of experience in the tourism industry, our team has extensive local knowledge and networks that you can trust.
We pride ourselves on delivering extraordinary tours based on travelers' needs and are humbled by our guests' testimonials. In fact, our dedication has earned us a 5-star rating on Tripadvisor, and awards by Travel+Leisure Magazine and Newsweek. Check us out and discover why so many travelers worldwide choose us.
My team and I would love for you to join us on a trip to Monteverde or any of our many other adventure trips!
Cheers,
Jeff
Jeff Bonaldi
Founder & CEO
The Explorer's Passage
About Jeff Bonaldi
Jeff Bonaldi is the Founder and CEO of The Explorer's Passage, a premier adventure travel company. His mission is to provide travelers with the opportunity to transform their lives and the planet through the power of adventure.
Learn more about Jeff's story and his company HERE.